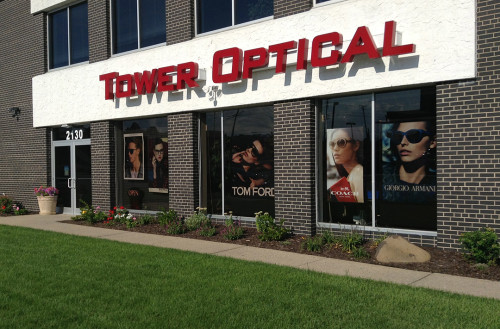 Tower Optical Summer Gallery Hours
---
Monday 10-5
Tuesday 10-7
Wednesday 10-5
Thursday 10-7
Friday 10-5
Saturday Closed
Sunday Closed
Come See Us Today!

We want to take this time to thank all of our loyal customers who have all played a part in helping us grow Tower Optical last year.  We hope we have met all of your expectations, and we look forward to serving you in 2017!

Right now, enjoy our Buy One, Get One FREE sale!
And shop our new shipment of Dita and Chanel!
Trend Report
---
Ray-Ban – An American Icon
Ray-Ban Aviator, the Sunglasses that started it all!! In 1936, at the request of the US Army Air Corps, Bausch & Lomb, the original manufacturer and designer of the Ray-Ban frame, manufactured a prototype of a lightweight metal frame that contoured to the wearer's eye socket. They also developed a green lens that cut out blue and white light, thus "banning the rays" that caused nausea and headaches when pilots were flying at high altitudes. The sunglasses were later named the Ray-Ban Aviator. Get it? Read the prior sentence if you don't! Later, the entire brand was named Ray-Ban. In1937, they became available to the general public.
1. In the 1940's Bausch & Lomb improved on the lens functionality and later introduced the Ray-Ban Shooter. That small circle in the bridge of the frame, guess what? It was originally purposed as a cigarette holder to enable the shooter to use both hands. Yes, that is a fact!
3. Things began to change in the late 70's and 80's as the disco era and the designer brands began to enter the scene in the eyewear industry. It now was an established fact that the frames and sunglasses worn on your face could enhance your looks while still providing functionality. America began to place importance on looking good in their eyewear and sunwear. Designer brands saw that they could make their mark in the eyewear industry and make tons of money doing it!
5. While Ray-Ban was still a household name, the brand lost its dominance as more and more top designer labels entered the eyewear and sunwear market. People around the world understood the importance of a quality pair of sunglasses and wanted a designer look and label to go along with it. Designer eyewear became an affordable luxury and people wanted and still want to be a part of it. The designer sunwear industry is now a multi billion dollar per year industry. In 1999, Luxottica bought the struggling company from Bausch & Lomb, and relaunched with a bang. They kept the brand at reasonable prices, and now Ray-Ban outsells even Oakley in the sunwear market and surpasses many brands in the designer eyewear market also.
2. In 1952, a radical new style came out, called the Wayfarer. It revolutionized the eyewear industry. It introduced a bolder and stronger look than the metal frame, and it was considered a game-changer in manufacturing innovation. In 1947, the Clubmaster arrived on the scene. It became a big hit and accounted for half of all glasses and sunglasses worn and sold in the late 50's and 60's.
4. Ray-Ban sales suffered because of that, but later the company burst back into the mainstream when they decided to capitalize on celebrity influence, and Ray-Ban then became the go-to brand that was used all over in Hollywood. I bet we can all name at least 3 movies that we've seen when a star was sporting a pair of Ray-Bans!
6. When it comes down to it, who doesn't want to sport a pair of Ray-Ban's? Most of us love our designer brands, but most of us have to have at least one Ray-Ban in our collection!
Testimonials
---
"I have been a LOYAL customer to Tower Optical since the mid 1970's. Their service is and has always been exemplary! The staff is professional and helpful. It's always a lot of fun working with them to find the most unique frames that START TRENDS and more importantly, FIT MY PERSONALITY! Tower Optical is certainly the BEST EYEWEAR STORE in town!"
—Diana, Milwaukee Public Schools
"We have purchased eyewear from Tower Optical for over 15 years. The frame selection is fantastic and the customer service is unbeatable."
—George and Kathy, Germantown
"I simply would like to take a moment to say 'Thank you so much' for the great and outstanding service that I have always received at your optical and especially at my recent visit. The staff is very friendly, professional, competent, and always willing to go above and beyond to help customers. In addition, the selection of designer eyewear is like no other place. I have been coming to your optical for over 5 years and will continue to do so!"
—Ramon, Milwaukee – "a customer for life"
A Superstar Line-Up Like No Other!
Armani


Balenciaga

Bobbi Brown

Burberry

Bvlgari

Carrera

Cartier

Caviar

Cazal

Celine

Chanel

Chrome Hearts

Coach

Dior

DITA

DSquared 2

Diva

Dolce & Gabbana

Dutz

Etnia Barcelona

Evatik

Fendi

Gold & Wood

Gucci
Italia Independent

J. F. Rey

Jhane Barnes

Jimmy Choo

John Varvatos

Juicy Couture

Kate Spade

Lafont

L.A.M.B./gx (Gwen Stefani)

Lilly Pulitzer

Marc Jacobs

Maui Jim

Michael Kors

Miu Miu

Niche

Nike

Oakley

Oliver Peoples

Penguin

Prada

Ralph Lauren

Ray-Ban

Roberto Cavalli
Silhouette

Tiffany & Company

Tom Ford

Tory Burch

Valentino

Versace

Vogue

Zac Posen

And the list goes on…
Kids' Eyewear
Miraflex

Polo

Ray-Ban Juniors

Vera Bradley

Vogue

And more…
Discover the best in fashion Eyewear and Sunwear.