Services Offered
Our friendly and enthusiastic staff will greet you the moment you enter our doors.  They will either direct you to the Eyewear and Sunwear Gallery or to the Contact Lens Station!
All outside prescriptions are welcome!
Tower Optical specializes in offering you top designer and hard-to-find luxury brands from around the world, but unlike most boutiques, we do carry product to fit every budget. Click on Designer & Luxury Brands to see a list of all of the lines we feature. Most of these brands listed have optical frames and sunglasses available.  We have an unbelievable collection of non-prescription sunwear – more than the sunglass stores!!
Armani
Bobbi Brown
Burberry
Bvlgari
Carrera
Cartier
Caviar
Cazal
Celine
Chanel
Chrome Hearts
Coach
Dior
DSquared 2
DITA
Diva
Dolce & Gabbana
Etnia Barcelona
Fendi
Gold & Wood
Gucci
Jhane Barnes
Jimmy Choo
Kate Spade
L.A.M.B./gx (Gwen Stefani)
Lilly Pulitzer
Lucky Brand
Marc Jacobs
Maui Jim
Michael Kors
Miu Miu
Niche
Oakley
Oliver Peoples
Penguin
Persol
Prada
Ralph Lauren
Ray-Ban
Roberto Cavalli
Silhouette
Tiffany & Company
Tom Ford
Tory Burch
Versace
Vogue
Zac Posen
And the list goes on…
Great Looks for Kids too!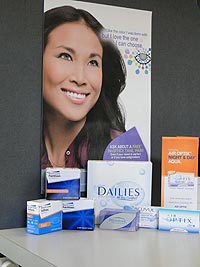 We sell 100's of boxes of contact lenses per month enabling us to bring you all the major brands including colors at great prices. You are welcome to phone in for pricing, and always be sure to ask about vendor rebates. We stock 1000's of contacts in-office so often you can do cash and carry. Call us in advance, and we can have you contact order ready at the Contact Lens Station upon your arrival.
If we don't accept your insurance plan, you will receive a discount on the purchase of your glasses, and you will be able to participate in our many sales and promotions!! If we are not an in-network provider for your particular plan, and you would still like to see us, we will prepare an itemized statement and you can forward it to your insurance company for reimbursement to be sent directly to you. You will find that often times you end up paying less for your glasses, especially if you purchase lens extras and designer or brand name frames and sunwear because without insurance you are eligible to participate in our many on-going specials and promotions!
Why did we drop Davis and Spectera?
We had to use their East coast labs to make your lenses. Much of the time, we were unhappy with the quality of the work and the turn-around time. After careful thought, we decided to discontinue accepting both of these plans and get back to offering you the best eyewear. We have been freed of making constant excuses as to why your lenses don't look good, why you can't take advantage of our liberal warranty policy, or why you had to wait 3-4 weeks to even receive them!!
**Also, many plans have out-of-network coverage. Ask your Davis or Spectera representative if you can submit an itemized statement and receive out-of-network reimbursement. Our staff will be happy to prepare the statement. We do it all the time.
Below is a sampling of some of the most common insurances and discount plans that we accept on a regular basis.
AARP
Cigna
City of Milwaukee Discount Plans
Davis (see above)*
Delta Dental
EyeMed
FEP Blue Vision
Milwaukee Carpenter, Pipe, Sheetmetal, & Plumber & other Trade & Union Plans
Spectera (Optum) (see above)*
Medicare Complete
NVA
Potawatomi Casino
Principal Financial
Superior Vision
VIPA
VSP (See below)**
Wisconsin Laborer's Health Fund
**We are an out-of-network VSP provider due to the fact that their guidelines require an optical store to be Optometrist owned to be in-network. 95% of your plans allow you to go out-of-network for services so you can purchase the "designer eyewear" not found in many Dr. offices at Tower Optical. We will make it easy for you by submitting a claim directly to VSP, and you will only pay the portion due after your insurance plan allowance. The process will be the same for you as when staying in network!